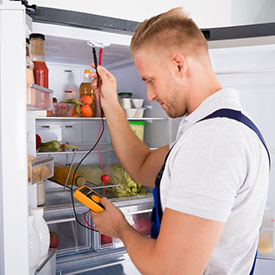 At Plaza Appliance Service Company, we understand how frustrating it can be when your refrigerator stops working. Our team of experienced technicians is here to help get your fridge running again quickly and efficiently. We start by addressing the problem that caused the refrigerator to stop working in the first place. We will inspect all components and make sure everything is functioning properly. If necessary, we'll replace any worn out parts or provide you with a new model if needed.
Once the repairs are completed, our knowledgeable technicians will make sure to test your refrigerator and ensure it's working correctly before leaving your home. We want you to have peace of mind knowing that your appliance has been fixed right the first time around!
We also offer maintenance services for refrigerators. These services include checking for any potential issues, cleaning and adjusting any parts that may need it, as well as replacing worn out parts if necessary. Maintaining your refrigerator regularly can help avoid future breakdowns and keep it running smoothly.
Refrigerators are a common appliance that are used in homes and businesses around the world. Although they can seem like a simple machine, there are many potential issues that could arise with them over time. Common problems with refrigerators include leaking water, noises coming from the compressor, or not cooling properly.
At Plaza Appliance Service, we have years of experience in providing quality refrigerator repair services to our customers. We understand how these machines work and how to diagnose and fix any problem you may be having with yours.
How Refrigerators Work
The modern refrigerator is an indispensable appliance that has revolutionized the way we store food and beverages in our homes. With its technological advancements and convenient features, it helps us maintain proper safety protocols when storing perishable goods, thus ensuring their quality for longer periods of time. From its development up until today's cutting-edge models, the modern refrigerator has become an integral part of our everyday lives.
Refrigerators work by using a cooling system that consists of several components. These include a compressor, condenser coils, an expansion valve and evaporator coils. The compressor compresses the refrigerant gas to create a high pressure, hot gas which is then passed through the condenser coils and cooled down. This cools the refrigerant liquid, which then passes through the expansion valve, where it becomes colder as it expands through and absorbs heat from inside the refrigerator. Finally, this cold liquid is passed through evaporating coils and turned back into gas, which absorbs more heat from inside, before being drawn back to the compressor once again to be cooled down. In this cycle of compression, cooling and evaporation continues until the refrigerator reaches its desired temperature setting. This cycle of compression and cooling is how a refrigerator works to keep food and other items cold. By using this process, a refrigerator can keep items at a consistent temperature for an extended period of time. This cooling system helps to preserve food items for longer periods and prevents them from spoiling, due to excessive heat or cold.
Compressors
The basic workings of a refrigerator involve using an electrically powered compressor to circulate coolant through its tubes and coils in order to keep the temperature inside the fridge consistently cool. The compressor's job is vital, as it is the source of power for the entire refrigerator. If it is not running properly, then your fridge will not be able to maintain a consistent temperature, and could even stop working altogether.
Compressors are made up of several parts that can become worn over time, leading to issues such as excessive noise or vibration, or lack of cooling power. At Plaza Appliance Service Company, we have the tools and expertise required to diagnose any problems with your compressor and get it running smoothly again, quickly and affordably. Our team has years of experience on all types of refrigerators and compressors, so you know you are getting the best service possible.
Whether you need help repairing your refrigerator's compressor, or simply want advice on how to keep it running smoothly, contact the experts at Plaza Appliance Service Company for fast and reliable service. We are here to help you get your fridge back up and running in no time.
Contact Us Today
At Plaza Appliance Service Company, we strive to provide you with the best service possible. Our team is always available to answer any questions or concerns you may have about your refrigerator repair needs. Contact us today for more information about our services!
We can help you with these common problems that can affect your refrigerator:
Breaker Strips
Capacitor
Compressor mounts
Compressor motor
Compressor relay
Condensor coils
Condensor coils
Condensor fan
Defrost heater
Defrost thermostat
Defrost timer
Door seal
Door switch
Drain tube
Evaporator fan
Ice maker
Interlock switch
Leveling the refrigerator
Overload protector
Refrigerant Leak
Temperature control
Water inlet valve
Charlotte Metro Area:
(704) 326-7332
Fort Mill / Tega Cay:
(803) 500-3411