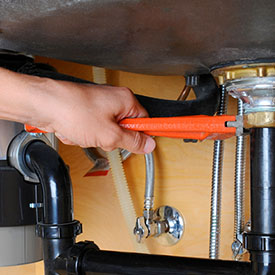 If you are experiencing any problems with your disposal our technicians are available to service and repair your appliance same day! Plaza Appliance Service Company staffs a team of fully trained technicians, who can attend to all types of garbage disposal repair. Our technicians will arrive at your location, diagnose the problem and provide an immediate fix upon request. Many of the problems with garbage disposals are quite common. There are some very everyday problems easily fixed by the professionals at Plaza Appliance Service.
Signs That Repair May Be Needed
No Power – A garbage disposal is not immune to overheating, which leads to a lack of power. This can be caused by an ordinary jam. However, it can also be caused by a motor that has been worn down over the course of time. Getting to the source of the issue is something that requires a complete look into the system.
Clogs – The majority of serious clogs in a garbage disposal will not be cleared with a home remedy or DIY method. This will require a professional to use a snake or other methods that are part of professional disposal repair. It may also require the trap to be disassembled. A technician can attend to these issues with ease and provide a quick fix.
Multiple leaks – If one leak is not enough, more than one will signify that it's time for disposal repair. There are some leaks that will require a new system to be installed. But there are also leaks that can be fixed with disposal repair. Leaks that are located in the unit's body may require more comprehensive work than regular disposal repair.
Jammed disposal – A garbage disposal can become jammed by various objects or debris. Trying to fix a jam yourself can be very dangerous as the blades could do a significant amount of damage. Instead of messing around with any of those components, it is best to call a professional and let them do what they do best.
Loud and unnecessary noise – Disposal repair is definitely an option when there are loud and unusual noises coming from your system. This could be the result of loose screws or worn out blades. There are also other causes, all of which can be fixed by the trained technicians at Plaza Appliance Service.
Multiple Types of Disposals
At Plaza Appliance, we attend to issues on all types of garbage disposals. When it comes to garbage disposal, there are several options available depending on the needs of your home or business. Here's a look at some of the common types of garbage disposals:
Compactor Disposal – This type of disposal works by compressing and compacting waste into small cubes that can be easily disposed of. The benefit to this type is that it reduces the amount of trash in landfills, making it more eco-friendly. However, it may require additional space and power to operate, so you should consider whether or not this option will be right for you before investing in one.
Grinder Disposal – A grinder disposal shreds larger pieces of food waste into smaller pieces that can be washed away with water. This type of disposal is convenient and efficient, as it reduces the amount of waste build-up around your sink or in garbage cans. However, grinder disposals can often require more maintenance than other types of disposals since they rely on blades to grind up food particles.
Batch Feed Disposal – Batch feed disposals are designed so that the motor only starts when you activate a switch on the unit itself. Generally, this feature makes them safer to use as they prevent accidental starts and allows for easier operation. They're also quieter than traditional continuous feed disposals and require less electricity to operate.
Continuous Feed Disposal – A continuous feed disposal works by running continually until you switch off the power. This type of unit offers more convenience as it can take care of your food waste in one go, but they tend to be louder and require more electricity than batch feed disposals.
Causes For Repairing Your Disposal System
Wear and tear can be responsible for some issues affecting a garbage disposal, but most times it is due to the fact that people put things down a garbage disposal that are not meant to be broken down in that fashion. For example, any type of grease should not be poured down a disposal. The same rule applies to fats or oils. Hard foods should also be disposed of in a different way.
And although some foods may seem as though they can be broken down by a garbage disposal, certain kinds should always be discarded in a trash can. This includes banana peels and other fibrous food items such as celery and other fruits and vegetables.
Service You Can Trust
The team at Plaza Appliance Service has accumulated many years in this industry and we pride our business on quality work and integrity. Our technicians will always quote a fair price and recommend only the repair work that is absolutely needed. We also break down the problem and solution so that every customer has a comprehensive understanding of what is going on with their system. If you are in need of disposal repair, call the experts at Plaza Appliance Service today!
We can help you with these common problems that can affect your disposal:
Not turning on
Electrical connections
Switch failure
Stuck flywheel
Faulty impeller
Faulty shredder ring
Dishwasher connection
Hoses
Gaskets
Discharge Drainpipe
Slow draining
Leaking
Charlotte Metro Area:
(704) 326-7332
Fort Mill / Tega Cay:
(803) 500-3411