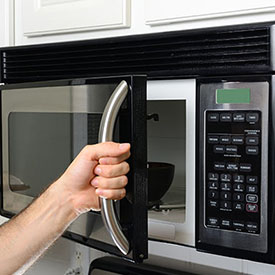 At Plaza Appliance Service Company, we proudly provide fast and efficient microwave repair services. Our experienced technicians are highly trained in all aspects of microwave repairs, from replacing a heating element to fixing faulty door switches. No matter the type or brand of your appliance, our team is prepared to diagnose and repair the problem quickly and effectively. We offer same-day service for those times when you need us right away.
We understand that some problems with microwaves can be dangerous if left unattended, so don't hesitate to call us as soon as you experience an issue. To help ensure that all our customers stay safe while using their microwaves, we provide detailed instructions on microwave safety and proper usage upon completion of every repair job.
Our aim is to provide you with fast, friendly and affordable appliance repair services. We are dedicated to providing the highest quality of service possible and consistently strive to exceed customer expectations. With our satisfaction guarantee, you can rest assured that your satisfaction is guaranteed every time you call us for a repair job.
Styles Of Microwaves
At Plaza Appliance Service, we are proud to provide repair services for all types of microwaves. Most microwaves on the market today fall into three main style categories: countertop, built-in and over-the-range microwaves. Countertop models are the most popular option for those who simply need basic heating capabilities or reheating of food items in a hurry. Built-in microwaves typically require professional installation and are often placed underneath cabinets in more modern kitchens. Over-the-range models offer additional lighting to help you cook while taking up less counter space than a traditional countertop microwave.
There are several different types of microwaves, each with its own unique features and benefits. Below is a guide to the three main categories:
Solo Microwave – A solo microwave is the most basic type of microwave oven that typically has only one power setting (high or low). This type of microwave is perfect for heating up small portions of food quickly, such as leftovers or ready-made meals. However, due to its limited cooking options, it's not ideal for more advanced cooking techniques like defrosting or baking.
Grill Microwave – A grill microwave is a great option if you're looking for something with a bit more functionality than just reheating food. It combines grilling and microwaving, giving you the ability to cook a wider range of dishes. You can use it to brown and crisp food like fish, chicken and burgers as well as using it for traditional microwave cooking methods.
Combination Microwave – A combination microwave is the most advanced type available and combines all the features of a solo and grill microwave into one appliance. It allows you to defrost, bake and grill food, making complex recipes easy to prepare at home. It's perfect for anyone who loves experimenting in the kitchen or for busy households that need a multifunctional appliance with lots of flexibility.
No matter which type of microwave you choose, make sure that you read through the manual carefully before using it so you understand all the safety precautions involved. With the right appliance, you can make cooking easier and more enjoyable.
All microwaves have something to offer, so consider your needs and budget when making a decision on which one is best for you. Ultimately, it's important to choose an appliance that fits in with your lifestyle and will help make life in the kitchen more convenient.
Repair Issues
When it comes to repair issues that could affect your microwave, there are several potential culprits. Some common problems with microwaves include: faulty door switches, which can prevent the appliance from turning on; spark gaps, that could cause sparks inside the oven; burnt out fan motors; issues with turntables or rollers, that cause uneven heating; and issues with the magnetron, which can affect overall power levels. Additionally, some microwaves may have faulty ventilation systems that need to be replaced or repaired.
If the microwave isn't working, the fuse may be blown. Replacing the fuse is a relatively easy fix that may solve the problem.
Sparks inside the microwave can be caused by foil or utensils in the microwave, food splatters ignite, a high-voltage diode shorts out, or a defective stirrer causes heat to concentrate in one area. If you see sparks coming from your microwave, unplug it immediately and contact a professional for help.
If the turntable is not rotating, the carousel may need to be re-aligned on the turning mechanism. The issue could also be caused by a worn-out turntable drive bushing or defective tray motor. You can try realigning the turntable yourself, but if that doesn't work or you don't feel comfortable doing it, you can call a repair person to take a look.
If your touch pad only works intermittently, it may be damaged from water or insect infestation and will need to either replaced or repaired. This is generally not a do-it-yourself fix, so you will likely need to call in a professional to take care of it.
Most microwaves do not have a button that will restart the appliance, but there are methods you can use to reset your microwave, such as pressing an off/reset/cancel button or unplugging the appliance and letting it sit for 20-30 minutes.
Regardless of what type of microwave you own or what issue it may be having, our team at Plaza Appliance Service is dedicated to finding a solution for you. We provide fast and reliable service so you can get back to enjoying your freshly cooked meals in no time!
We look forward to helping you get your microwave running in top condition! If you have any questions or would like more information on our microwave repair services, please feel free to contact us at any time. Thank you for choosing Plaza Appliance Service Company for all your appliance needs!
We can help you with these common problems that can affect your microwave:
Unusual sounds
Lack of a sound
Filter
Loose connections
Burned connections
Disconnected wires
Broken binding
Melted parts
Unusual odors
Systematic continuity
Resistance
Appliance bulb
Display
Turntable
Charlotte Metro Area:
(704) 326-7332
Fort Mill / Tega Cay:
(803) 500-3411