WASHER/DRYER REPAIR SERVICES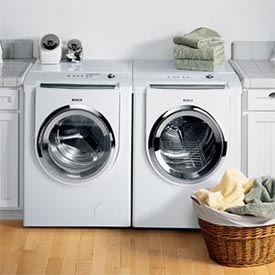 At Plaza Appliance Service Company, we specialize in washer and dryer repairs. Our team of experienced technicians have the knowledge and expertise to quickly diagnose and repair any issues you may have with your appliances. We understand that a broken appliance can be extremely inconvenient, which is why we provide fast, reliable services to get your washer or dryer up and running again in no time.
Plaza Appliance Service Company is experienced in dealing with all common issues that washers and dryers can have. Some of the most frequent problems include:
Washer not filling with water: This issue can be caused when there is a clog or kink in the water hose, the pressure switch is malfunctioning, or the water valve won't open. Our knowledgeable technicians will check for all of these potential causes.
Dryer not heating up: This could occur if the gas shutoff valve has been turned off, the flame sensor needs to be replaced, or if there is an air flow restriction such as from lint buildup in the vent system. These are all things our technicians can inspect and diagnose.
Washer not spinning or agitating: This can happen if there is a broken belt, motor coupling, lid switch, or the drive system inside is worn out. Our technicians will be able to figure out what part needs to be repaired or replaced in order to fix this issue.
Dryer taking too long to dry clothes: This typically results from lint buildup in the vent system, clogged exhaust ducts, or a problem with the heating element. Our experienced technicians have seen it all and know how to get your dryer back up and running quickly and efficiently.
Things To Watch Out For
If you own a washer or dryer, it's important to know the warning signs that it may need repairing. At Plaza Appliance Service Company, our team is here to help diagnose and repair any issues with your washer or dryer. Here are 5 common signs that your appliance needs professional attention:
Unusual Noises – If you start to hear unusual noises coming from your washer or dryer, this is a sign that something isn't right. This could indicate an issue with the motor or other components of the machine.
Vibrations – Washers and dryers should not vibrate more than usual during use. If they do, then this could be a sign that something is wrong with the appliance.
Unusual Smells – If your washer or dryer starts to produce strange smells, this can be an indication of a problem. The smell could indicate motor burnout or a clogged filter.
Poor Performance – If your washer or dryer isn't performing as efficiently as it used to, this could point to an underlying issue such as heating element problems or broken parts inside the machine.
Unresponsive Buttons – When buttons on washers and dryers are unresponsive, it usually indicates there is an electrical issue preventing the device from running properly.
Water Leaking– if a puddle is beginning to collect around the base of your washer, there could be many reasons. Water leaking from your washer can be caused by seal failure, a cracked tub, or a damaged water supply hose. Make sure that you do not ignore a leak, as it can become worse over time.
If you notice any of these signs in your home appliances, contact Plaza Appliance Service for professional service. Our team will promptly diagnose and repair your washer or dryer so that you can get back to using it with peace of mind.
Whether you're having trouble with your washer or dryer's water levels, heating elements, spin cycle, or anything else – Plaza Appliance Service is here to help. Our experienced technicians will be able to get your appliance back in working order quickly and easily. We use genuine manufacturer parts wherever possible, for reliable repairs that last. Plus, all of our work is backed by a satisfaction guarantee, so you can rest assured knowing that we are committed to providing high-quality services.
At Plaza Appliance Service Company, we strive to provide our customers with the best possible service. We know how important your appliances are to you, which is why all of our technicians have undergone extensive training on a range of washer and dryer models. Regardless of the brand or model you have, you can trust that we'll be able to fix it quickly and efficiently.
If you're looking for reliable washer and dryer repair services, get in touch with us today! We have been in business for over 50 years, providing exceptional service to the Charlotte Metro area. Our friendly customer service team would be more than happy to answer any questions you may have about our services. We look forward to helping you keep your appliances running smoothly for years to come!
We can help you with these common problems that can affect your dryer:
Air Flow
Baffles
Bearings
Belt
Centrifugal switch
Door switch
Glides
Heating element
Idler pulley
Level the dryer
Lint trap
Moisture sensor
Power Cord (3 or 4 wire)
Safety fuse
Seals
Start switch
Support rollers
Thermostats
Timer motor
Vent
Temperature selector switch
Motor
Blower Wheel
Common problems with gas dryers are:
Air Flow
Baffles
Bearings
Belt
Blower Wheel
Centrifugal switch
Door switch
Flame sensor
Gas valve coils
Glides
Ignitor
Idler pulley
Level the dryer
Lint trap
Moisture sensor
Motor
Safety fuse
Seals
Solenoids
Start switch
Support rollers
Temperature selector switch
Thermostats or Thermal fuse
Timer motor
Vent
Charlotte Metro Area:
(704) 326-7332
Fort Mill / Tega Cay:
(803) 500-3411