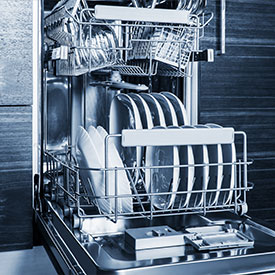 When it comes to dishwasher repair, Plaza Appliance Service Company is the name you can trust for reliable and affordable service. Our team of certified technicians have years of experience in providing top-notch repairs on all major brands and models of dishwashers, from Whirlpool to Bosch.
We provide a full range of services for your dishwasher needs, including:
Diagnostics – Our experts can quickly identify any issues with your unit, allowing them to recommend the best course of action.
Part Replacement – If necessary, we can replace parts such as pumps, motors, hoses, seals and more to get your dishwasher running like new again.
Installation Services – We offer complete installation services for new dishwashers, including hooking up plumbing and electrical connections.
At Plaza Appliance Service, we make sure that quality of service comes first. We offer a 100% satisfaction guarantee on all repairs to ensure that you get the best results possible. Our friendly, knowledgeable technicians are here to answer any questions you may have about your repair, so don't hesitate to give us a call! We look forward to helping you get your dishwasher back in top shape!
We offer fast and reliable service that gets your dishwasher running again with as little disruption to you as possible. Our team is fully trained on the latest dishwasher repair techniques, so that you get the best results. No matter what kind of problem you have–whether it's a broken seal, faulty hose connection, or clogged filter–we can fix it!
Types Of Dishwashers
There are several different types of dishwashers available, including built-in, countertop, portable, drawer, and undercounter models.
Built-in Dishwashers: Built-in dishwashers are the most common type of dishwasher used in homes today. These appliances fit into the existing kitchen cabinetry for a seamless look. They are usually installed below a countertop or sink and feature adjustable racks to accommodate larger items such as pots and pans.
Countertop Dishwashers: Countertop dishwashers are smaller than traditional dishwashers but offer the same convenience of washing dishes. They are typically used in apartments and small homes where space is limited. They are generally installed on the countertop next to the sink, offering an easy and convenient way to clean dishes.
Portable Dishwashers: Portable dishwashers are wheeled models that can be moved around the kitchen or even outside for washing items away from a sink. These models offer convenience when entertaining large groups of people or if you don't have enough room for a traditional built-in model.
Drawer Dishwashers: Drawer dishwashers are similar to traditional built-in models but feature two separate drawers instead of one large unit. This style offers flexibility, allowing you to wash different types of dishes in each drawer. The drawers can also be used independently, allowing you to wash dishes from a single sink without having to wait for the full cycle to finish.
Undercounter Dishwashers: Undercounter dishwashers are similar in design to traditional built-in models but feature a low profile that fits underneath your kitchen countertop. They are typically shallower than regular models, which allows them to fit into small spaces. These models offer convenience when tight on space and still provide powerful cleaning performance.
Common Repair Issues
Plaza Appliance Service is your go-to for all your dishwasher repair needs. Common issues that can arise include loud noises, water leakage, not starting up, not draining or filling, not cleaning dishes, not drying dishes, and not dispensing detergent. Let's take a look at how to identify and address each of these issues:
Loud Noises: If you're hearing strange noises from your dishwasher during operation it can indicate an issue with the motor or pump assembly. It's important to contact Plaza Appliance Service for professional assistance in diagnosing the source of the sound and fixing it correctly.
Water Leakage: If you notice water leaking from the bottom of your dishwasher, it may be due to a broken seal or worn-out gasket. This needs to be looked at and addressed as soon as possible to prevent further damage from occurring.
Not Starting Up: If you're having trouble getting the dishwasher started, this could mean that the door latch is not properly closing or engaging, or that there are other electrical issues. Our technicians can help identify and fix any problems preventing your dishwasher from starting up correctly.
Not Draining or Filling: This can be caused by an issue with the float switch, water inlet valve, timer motor, drainage hose, or pump assembly. We recommend letting our experts take a look so they can determine what part of your dishwasher needs to be replaced or repaired.
Not Cleaning Dishes: If your dishwasher isn't sufficiently cleaning dishes, chances are the sprayer arm is clogged with debris or there's a problem with the detergent dispenser. Our technicians can help you identify and fix any underlying issues so that your dishes come out clean and spotless every time.
Not Drying Dishes: This could be due to an issue with the heating element, air vent, timer motor, or water temperature sensor. Let our professionals take a look under the hood of your dishwasher to locate and repair any parts that need it.
Not Dispensing Detergent: This can be caused by an issue with the detergent dispenser, timer motor, or water temperature sensor. We can help you identify the source of the problem and get it fixed quickly so that your dishwasher is back up and running again in no time.
When it comes to dishwasher repair, Plaza Appliance Service Company has you covered. Contact us today to have an experienced technician come out and address any issues you're having with your appliance. We guarantee quality service every time!
We can help you with these common problems that can affect your dishwasher:
Air Gap
Bimetal terminal assembly
Door hinges
Door latch
Door seal gasket
Door springs and cables
Door switch
Drain hose
Drain valve
Drain valve lever arm
Drying fan
Float assembly
Float switch
Heating element
Motor
Rust
Selector switch
Spray arm and tower
Thermostat
Timer motor
Water inlet valve
Charlotte Metro Area:
(704) 326-7332
Fort Mill / Tega Cay:
(803) 500-3411