Charlotte Metro Area
(704) 326-7332
Fort Mill / Tega Cay
(803) 500-3411
We Accept All Major Cards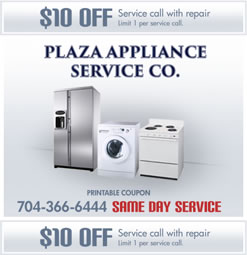 We Are Experienced On All Major Appliances Repair. We Work On:
Testimonials
I called Plaza Appliance Service at 7:30am and they were at my house by 10am and had my washer back up and running fast and at a fair price. Thanks guys for the great service.
Mike Miller
Called Sears for my Refrigerator and they told me it would be 4 days to get service. With 2 kids that was not good enough. Called Plaza and my refrigerator was repaired before I lost all my freezer food. One hour service compaired to 4 day service will keep me as a customer for life.
Lacey G.
Called about my dryer taking too long and they helped me repair the problem myself. That is why we always use this company and will call them next time.
Dennis Wood