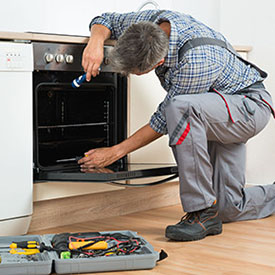 At Plaza Appliance Service Company, we specialize in stove tops and ranges. Our experienced technicians are skilled at servicing all types of stoves, from gas to electric. We understand that your stove is a vital part of your kitchen, so when it needs repair or maintenance, you need a reliable technician to get the job done right.
We provide efficient repairs that will save you time and money, while ensuring top-notch performance for years to come. Whether it's restoring heat settings or replacing parts like knobs or safety valves, our technicians have the expertise to complete any job quickly and accurately.
Types Of Stovetops And Ranges
There are various types of stove tops and ranges on the market, each with their own unique features. Depending on your cooking needs and budget, you can choose from gas stoves, electric stoves, induction cooktops, and dual-fuel ranges.
Gas Stoves: Gas stoves are powered by natural gas or propane. They offer instant heat response that makes it easy to adjust temperatures quickly without overshooting. Gas stoves also have a traditional look that many find appealing. The main drawback is expense; installing a gas line in your home can be costly.
Electric Stoves: Electric stoves are powered by electricity and have an even heating surface that prevents hot spots or cold spots on the burner. They are relatively affordable to install and maintain, but take longer to heat up than gas stoves.
Induction Cooktops: Induction cooktops use magnetic energy instead of flames or electric heating elements to create heat. This makes them much faster and more efficient than traditional stove tops. They are also safer than gas or electric ranges since the surface remains cool to the touch while in use. However, they tend to be more expensive than other types of stove tops and require special induction-compatible cookware.
Dual Fuel Ranges: Dual fuel ranges are a combination of an electric oven with a gas cooktop or vice versa. This gives you the best of both worlds—instant heat response from the gas burners with even heating from the electric oven. They are more expensive than single-fuel ranges, but many consider them worth the extra cost for their convenience and performance.
Common Issues
Stove tops/ranges are a common kitchen appliance and can be easily taken for granted. However, like any other appliance, they can also suffer from a few common issues that may need to be repaired.
One of the most frequent problems is gas or electric burners not lighting up properly. This could be caused by worn out spark igniters or broken electrical parts. Another issue could be with ventilation fans or pilot lights malfunctioning. This could result in inefficient air circulation or the pilot light going out at random times.
In addition to these issues, there can also be clogged range hood filters, loose wiring connections, faulty thermostats, and build-up of grease and grime on the surface of the stove. All of these problems can affect the performance of your range, and should be addressed as soon as possible to prevent any further damage from occurring.
When it comes to fixing these common issues with stove tops/ranges, it's best to contact a qualified appliance technician who has experience in dealing with them. They will be able to assess the problem accurately and provide appropriate solutions. In some cases, simple replacements such as igniters or thermostats may need replacing while in other more complex cases, entire parts may have to be replaced or repaired.
The Importance Of Routine Maintenance
It's also important to note that preventive maintenance is key when it comes to keeping your stove running properly. Regular cleaning of the surface and internal components can help keep your stove in good working condition and reduce the chances of breakdowns. Overall, regular inspections, maintenance, and repairs can help extend the life of your stove top/range, while ensuring that it continues to work at peak efficiency. This will not only help save time and money, but also prevent any potential hazards from arising due to a faulty appliance.
At Plaza Appliance Service, we offer routine maintenance services to help you get the most out of your stove. Our maintenance packages include cleaning, calibration of heat settings, and testing for proper functionality. Regular maintenance can extend the lifespan of your stove and reduce energy consumption, so it's a great investment for any homeowner or business owner.
We are committed to providing exceptional customer service and satisfaction on every job we do – no matter how big or small. Our team will ensure that your stove is in top condition so you can continue to cook delicious meals for years to come.
If you need help with your stove top or range, don't hesitate to contact Plaza Appliance Service Company. We have years of experience and expertise to keep your kitchen running smoothly. Contact us today and let our knowledgeable technicians take care of all your stove needs!
We can help you with these common problems that can affect your range:
Broiler element
Burner temperature control
Burner element (stovetop)
Clock
Convection fan
Convection fan motor
Door latch
Door springs
Gasket (Door Seal)
Level the range
Oven element
Oven selector control
Door
Power cord
Temperature calibration
Terminal Block
Thermometer bulb
Oven temperature control
Charlotte Metro Area:
(704) 326-7332
Fort Mill / Tega Cay:
(803) 500-3411