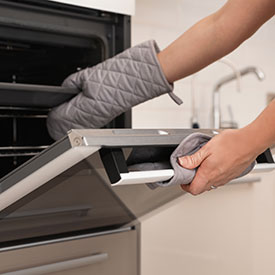 At Plaza Appliance Service Company, we understand the importance of keeping your oven in working order. Not only is it a key tool for cooking meals, but an oven that isn't functioning can also be dangerous to use. We're here to help you get your oven back up and running as soon as possible.
Our technicians are experienced in all types of oven repairs, from replacing heating elements to cleaning out clogged vents. We have all the tools and expertise necessary to get the job done quickly and efficiently, so you can rest assured that your appliance will be fixed correctly the first time around. We'll start by inspecting your oven for any visible damage or signs of wear and tear, then diagnose what needs to be repaired or replaced. We can even provide preventative maintenance services to help keep your oven running at its best for years to come.
Plaza Appliance Service is the go-to service for oven repair in your area. We have been fixing ovens of all kinds for over 50 years, and our experienced technicians can handle any problem you may face with your oven.
Signs Your Oven May Need Repair
Ovens are complex appliances, and they require specialized repair skills to diagnose and fix any issues that may arise. Common issues include: a broken heating element, problems with the bake igniter, faulty thermostats or temperature controls, door latch and hinge problems, or clogged vents or filters. Our team of highly trained professionals will quickly identify the source of your issue and come up with the best solution to get your appliance back on track, as soon as possible.
If you notice any of the following signs, it's time to call a professional oven repair service:
Unusual noises – An oven making strange clicking or grinding noises is not normal and may need to be serviced.
Slow preheating – If your oven takes longer than usual to come up to temperature, then it could be an indication that something is wrong with its heating element.
Uneven heating – Your food should cook evenly when cooked in an oven; if you notice that some items are cooking faster than others, this could suggest a problem with the thermostat or other parts of the appliance.
Heating cycles – If your oven continues to turn on and off, it could be a sign of a malfunctioning thermostat or other heating element.
Unusual smells – Any strange odors coming from your oven should be investigated immediately as they may indicate an electrical problem.
If you notice any of these signs, don't hesitate to call in the professional at Plaza Appliance Service Company for help. A qualified technician can diagnose the issue and repair your oven quickly and safely so you can get back to cooking without worry!
Gas vs. Electric
Gas ovens are typically more efficient than electric ovens, as the heat from natural gas is transferred to the appliance much faster. This also means that they can cook food quicker and at lower temperatures than an electric oven. On the other hand, electric ovens can be used with a variety of different temperature settings, which can help you customize your cooking experience in a way that's not possible with a gas oven.
When it comes to repairs, both types of ovens require regular maintenance in order to keep them running properly and efficiently. For gas ovens, this includes checking for any leaks in the hoses and pipe connections; inspecting any burner or igniter components; and checking for proper ventilation. For electric ovens, it's important to check all the heating elements, baking coils, and timer settings. Additionally, you may need to replace any worn out parts or repair any damaged wiring.
In addition, both types of ovens require routine cleaning in order to maintain their performance. For gas ovens, cleaning involves wiping down the exterior surfaces with a damp cloth and removing any food or grease buildup on the interior walls. Electric ovens require more frequent cleaning due to the fact that they retain heat longer than gas ovens; this means that you'll need to clean them more often in order to reduce the risk of fire hazards.
Plaza Appliance Service ensures that all repairs are done to the highest standards, and our technicians will take the time to explain each step of the repair process, as well as provide advice for maintenance and future repairs. We also make sure that all parts used are genuine manufacturer-approved products for a reliable and long lasting fix.
At Plaza Appliance Service Company, we understand how important your oven is in keeping you fed, so don't hesitate to contact us with any issues you may have—we'll be able to help! Our experienced technicians can diagnose and repair any problem with your oven quickly and efficiently. Contact us today for fast, professional oven repair services!
We can help you with these common problems that can affect your oven:
Broiler element
Burner temperature control
Burner element (stovetop)
Clock
Convection fan
Convection fan motor
Door
Door latch
Door springs
Gasket (Door Seal)
Level the range
Oven element
Oven selector control
Oven temperature control
Power cord
Temperature calibration
Terminal Block
Thermometer bulb
Charlotte Metro Area:
(704) 326-7332
Fort Mill / Tega Cay:
(803) 500-3411